Website Analyzer & SEO Audit Tool
Scan and Check your website with our free SEO Audit Tool & Website checker for technical SEO issues, on-page SEO issues, security & performance issues. Get actionable recommendations to improve your search ranking, visibility, user experience, and traffic.
Quickly uncover all the technical SEO issues that are hurting your website's performance.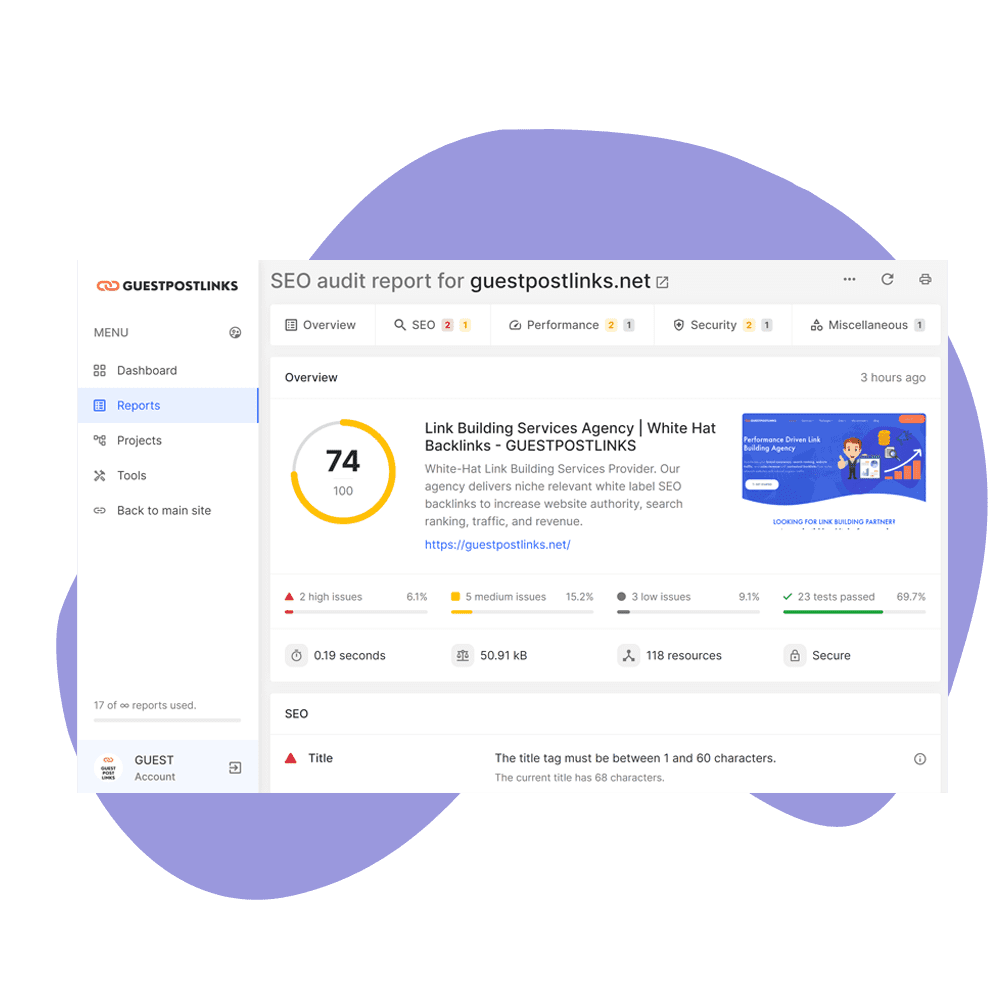 WHAT DOES THE FREE SEO AUDIT TOOL MEASURES?
The free SEO Audit tool is an excellent way to gauge your website's SEO performance. In just a few minutes, it provides key data that can help you improve your site. A few of the things it measures are:
Technical SEO is the process of optimizing a website for Google search with the goal of earning higher positions in the SERPs. A technical SEO audit is an in-depth analysis of your website's technical aspects, such as its architecture, tags, and code.
Google has a set of quality signals that they use to rate the quality of content on the web. By understanding these signals, you can ensure that your content is up to par and relevant to your audience. The signals include topical depth, word count, relevance, and page experience elements.
In order to learn how users are engaging with your website, you need to track their clicks, navigation, and any other interactions they have with your site. This data can then be used to identify ways to optimize your UI/UX design in order to increase conversions.
A social media audit is the perfect way to see how your business is doing on various platforms, what kind of opportunities there are for growth, and what changes can be made to improve your social media presence. By regularly conducting social media audits, you can ensure that your business is making the most of this important marketing tool.
An SEO audit is a comprehensive evaluation of a website's performance in organic search. The purpose of an SEO audit is to identify areas of improvement in order to achieve better search engine ranking and visibility.
Structured data is any information that has been organized in a specific way on a website. This type of data is easy for search engines to read and understand, which can help your website rank higher in search results.
Do you want to go even deeper with your site's SEO Analysis?
GUESTPOSTLINKS is a quick and easy way to check your website for proper tags and common errors. Just enter your URL and hit "check." In seconds, you'll see a report of any errors found on your site.
Get an analysis of your SEO issues in just a few seconds!
Professional SEO monitoring tools
Understand your competitors' SEO profile
Save hours with white-label SEO reports
SEO reports you can understand and act upon
How to get SEO Audit Report?
Enter te URL and Get the SEO Audit Report
Enter the URL of the website you want to get an SEO report for into the box and click on the submit button.
Once the report is generated, you will be able to see what areas need improvement in order to optimize your website for search engines.
We will submit your Guest post on the selected publisher website. We will also send you the report once publishers make it live.
Your Website SEO Audit Report will Include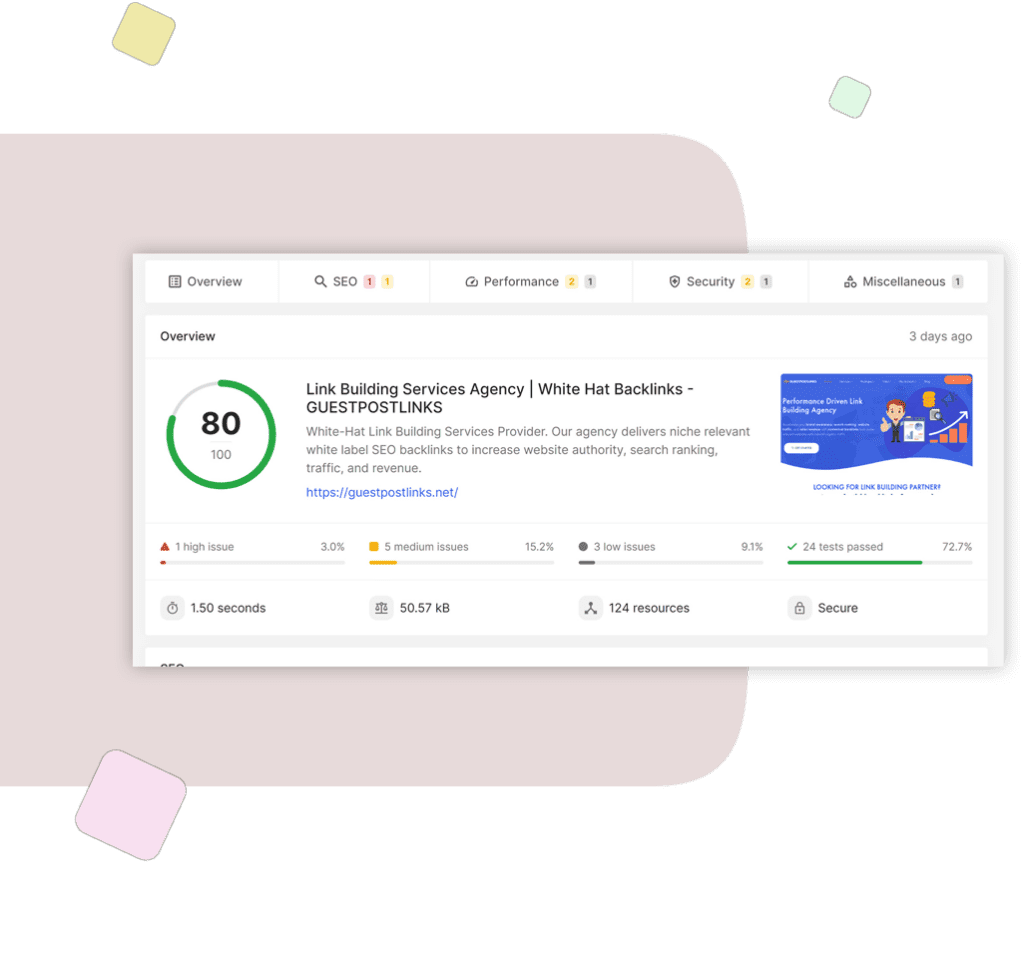 Overview of SEO Audit Report
Before anything else, enter your website into the Generate Report box. Doing this will give you a better understanding of what aspects of your website are strong and where you should focus your attention for the assessments that follow on this page.
This overview section provides a snapshot of how well the website is performing in terms of SEO. You'll be able to see the title, description, URL, and thumbnail of the page, which will give you a general idea of the website's SEO health.
Discover how an on-page SEO audit can help your website rank higher in search engines, bring in more traffic, and convert more visitors into customers. On-page SEO has the power to bring countless new visitors — and customers — right to your website.
On-page SEO is the term used to describe optimizing various aspects of your website so that it ranks in search engine results pages (SERPs), thus bringing in new traffic. On-page SEO components include the title, meta descriptions, headings, content keywords, image keywords, SEO-friendly URL, 404 page, Robots.txt, Noindex, In-page links, Language, and Favicon of website and pages.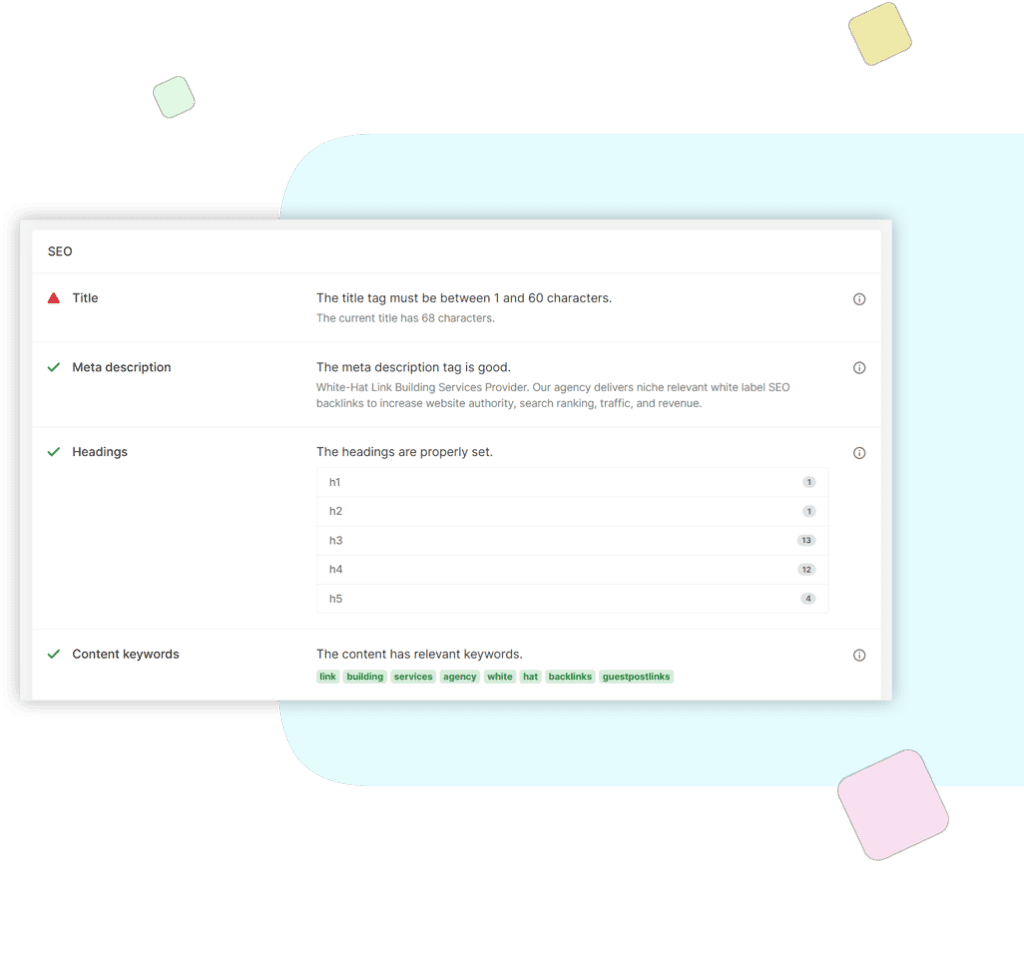 Technical SEO Audit Report
A technical SEO audit is an important process that website owners and developers should go through to ensure their site is following best practices for optimization. The audit report will help you identify a number of technical SEO issues so that you can address them and improve your website's ranking potential.
Some of the "technical" SEO elements that are checked during an audit include HTML elements, load time, page size, HTTP Request, Image format, Dom Size, JavaScript defer, and proper website extensions. By ensuring that these elements are up to par, you can improve your website's chances of ranking well in search engines.
Security SEO Audit Report​​
GUESTPOSTLINKS Audit tool is a great tool that will help you check for any security vulnerabilities on your website so you can fix them before hackers have a chance to exploit them. No website is 100% safe from hackers, but taking measures to secure your site will help protect it from the potential damage they could cause. By using a web vulnerability scanner, you can help to keep your website or online presence secure and free from attack.
If you find any of these security issues present on your website, it's important to fix them as soon as possible in order to avoid any further damage or risk.
Miscellaneous On-Site Factors
Our SEO Audit tool is also equipped for in-depth evaluation of a website's structure data (Open Graph, Twitter, Schema define), Meta viewport, Character set, sitemap, social media presence, content length, text-to-HTML ratio, inline CSS, deprecated HTML elements, and more.
The final item on the SEO checklist is an SEO assessment. To make sure Google continues to rank your pages highly in its search results, you'll need to target different keywords on each page, and make sure your titles, headers and meta descriptions accurately describe the page's content. While a monthly SEO assessment may sound like a lot of work, it's essential for any company trying to expand its customer base online. Your company's success may require a lot of time and work, but it will be worth it in the end!
Choose A Package That Fits Your Requirements.
Free
10 Reports
Complete Reports
Unlimited Updates
White Labeled
Web Tools
API Access
Data Export
Starter
100 Reports
Complete Reports
Unlimited Updates
White Labeled
Web Tools
API Access
Data Export
Pro
1K Reports
Complete Reports
Unlimited Updates
White Labeled
Web Tools
API Access
Data Export
Enterprise
10K Reports
Complete Reports
Unlimited Updates
White Labeled
Web Tools
API Access
Data Export
Agency
Unlimited Reports
Complete Reports
Unlimited Updates
White Labeled
Web Tools
API Access
Data Export

Good value link. Thanks for a quick delivery! Would definitely purchase again!
Great work. Quality sites with good metrics. Will hire again soon.

Quick and quality service. There were no errors in the work, and communication with a team was easy.
Frequently Asked Questions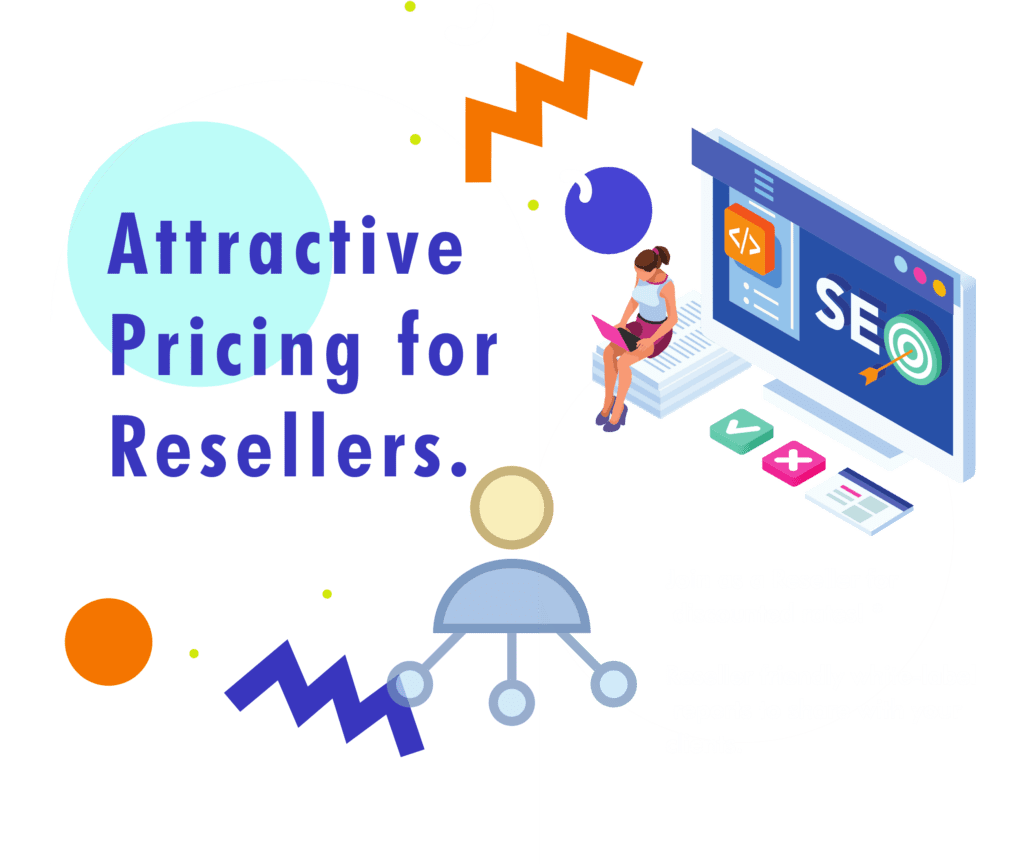 Are you a Guest Posts Reseller or SEO agency?
Sign Up as Reseller for discounted rates! *
*Note: All Reseller accounts are manually checked and approved. We may reject your application to join as reseller.